起势 qǐ shì begin form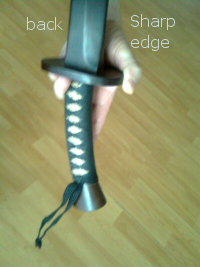 hold the sword in the left hand, guard plate resting on the palm, 1st two fingers pointing along the handle, fingers 3 and 4  against the guard, the thumb wrapped around the guard.  The end on the thumb and the edge of the blade  in line.  Edge of the blade pointing forward.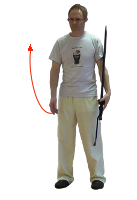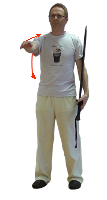 .
.
The right hand raises until it is in front of the R shoulder, arm straight.
.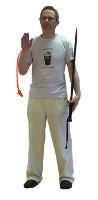 .
The R elbow sinks so that the R fingers start moving in towards the shoulder, then the forearm lowers so that the R arm is back by the RHS of the body but the wrist is now flexed so that the fingers are pointing forward.
.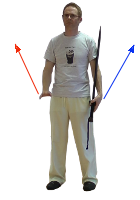 .
Both hands raise in front of the body to shoulder height at 45°.  Approx. ½ way up the L foot steps forward into xu bu.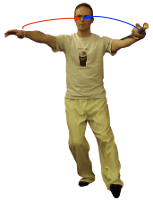 .
.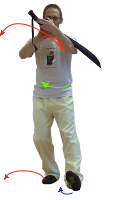 .
L elbow sinks as the right arm bends in at the elbow, ending with palm holding the sword in front of the face.
.
R H moves into crook of L elbow then back R, as it passes back in front of L palm turn waist R, then LF R then turn and step into R xu bu hands 'playing the lute'. The LH more or less stays where it is in space, with the body turning around and sinking away from it.
.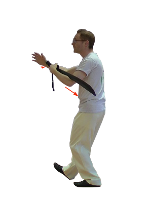 Sink the elbows and turn the palms up.