continue turning waist to L, RH turns to erect palm (looking at back of hand) then push out with both hands.
.
.
.
.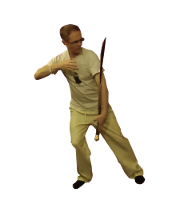 .
.
LH drops in front of body (arm and sword vertical) while RH moves into chest (preparation for brush knee).
.
.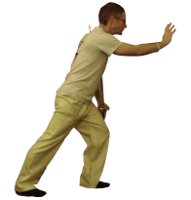 Turn waist to L, sitting into ma bu, turn on L heel then brush knee with LH and sword, then push forward with RH shift weight to gong bu, turn on R heel.